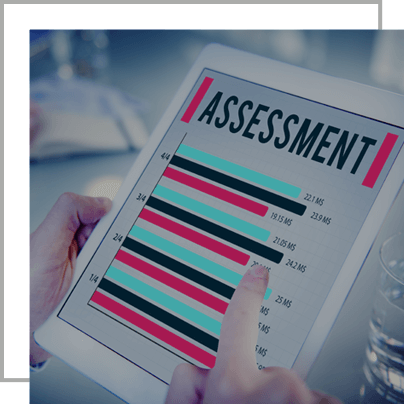 Why Use Formative Assessment?
ACHL's Formative Assessment platform is an innovative, flexible platform specially designed for both continuing professional education and internal corporate training.
How It Works:
Learners begin by completing a baseline assessment of their knowledge, including a pre-activity confidence assessment surrounding content covered in the activity.
A custom bar graph depicting learners' baseline assessment results appears. Participants can instantly visualize their individual results compared to the average score of their peers via the Peer Comparison Scorecard.
The Personalized Learning Roadmap appears. Learners can follow the Roadmap to reach the customized supplemental educational module(s) most relevant to their unique knowledge gaps and baseline competency level.
Participants conclude each module with a customized post assessment.
Users of the platform can receive:

Multiple, competency-based "correct" answer choices that measure participants' content/concept mastery at a granularity level rarely seen elsewhere.
 Answer rationales and evidence-based sources supporting the correct answer choices at all levels of mastery.
Multiple customizable, specialty-specific content/question tracks, allowing multiple practice type(s)/specialties (e.g., physicians, nurses) to receive targeted content within a single activity.
Learners' individual test-results score compared visually against both peers and pre-assessment results scores to illustrate the activity's knowledge and mastery impact.
Personalized education roadmap with content "packaged" to meet the unique needs of the learner
Option for CME/CE credit upon completion of the post-test assessment and evaluation.
Post-activity completion, learners can continue to access targeted content, references, and additional educational resources for improved knowledge retention and real-world application over the long term.
What other unique features does the Formative Assessment offer learners?
Proceed through content at your own pace
Enter/exit the platform whenever/wherever they wish
Pick up wherever they left off
Take as many session(s) to complete the content that they choose
Build and measure skill levels via pre- and post-activity confidence scaling
Follow multiple customized, specialty-specific learning tracks within the same activity